Artists
The KSR version of the 'artist in residence' concept gives artists the opportunity to transplant their art-making practices for a time, in a unique and inspirational space to create new work that culminates in an exhibition at the end of their residency.
̌
Cam Scale emerged from the Sydney graffiti scene, and for the past 10 years has based himself in Melbourne. His evocative portraits on massive walls incorporate fine detailing mixed with splashy, dripping textures: a culmination of years of practice as a graffiti artist. Scale's work continues to mature and evolve into a style that showcases his finer practice yet still acknowledges his roots.
His show, Trying to Find a Balance gave an intimate view of his socially and globally-conscious mind, exploring themes such as politics, contemporary culture and mental frailties. The body of work was both bold and vulnerable, thought-provoking and emotive. Created with acrylic and aerosol on canvas, this collection is a departure from Scale's recent public works on walls and silos across Australia and internationally.
Photography by: Loretta Lizzio.
ELLE's work is evocative, alluring, lavish, outrageous, purposeful and informative. Although she began as an illegal graffiti artist in New York, ELLE is now considered one of the top touring street artists.
ELLE considers her paintings to be poetry. She creates stories by collaging disparate images: powerful females, flora and fauna, classical paintings juxtaposed with pop-culture and high fashion imagery, revealing a purposefully designed messages to the world. Her passion for the environment and feminism are shown in the transparency of messages throughout her pieces. ELLE's current agenda is raising awareness of the hazards of global warming and ocean acidification affecting the world's reefs.
A Space for Sinners was ELLE's first solo show in over four years globally, and her first solo exhibition on Australian soil. The works called on themes of reconciliation, redemption and repent-ion. At A Space for Sinners, ELLE invited all to kneel on a pew to view her confession and make one of their own. It was an invitation into a space where all sinners, thus all humans, were welcome and none were judged.
Photography by: Shannyn Higgins.
Mayonaize (Mayo) moved to Melbourne from New Zealand in 2001. Working frenetically, he quickly established himself within the city's burgeoning graffiti scene. Over time, he gradually refined his style, paring it back to the bare bones of its current form.
As both a street artist and as a highly-sought-after tattoo artist - with each practice informing the other, and through the refinement of his style - Mayo has created his unique interpretation of calligraphy on the skin, on canvas, and in urban environments.
Swift, precise, and with almost bio-mechanical movements, his spontaneous approach creates a palpable energy.
Mayo's public works can be seen around Australia and in many overseas locations.
Memento is Mayo's first solo exhibition.
"Calligraphy is a moment captured on a surface and each stroke is a memento of that moment."
Photography by: P1xels.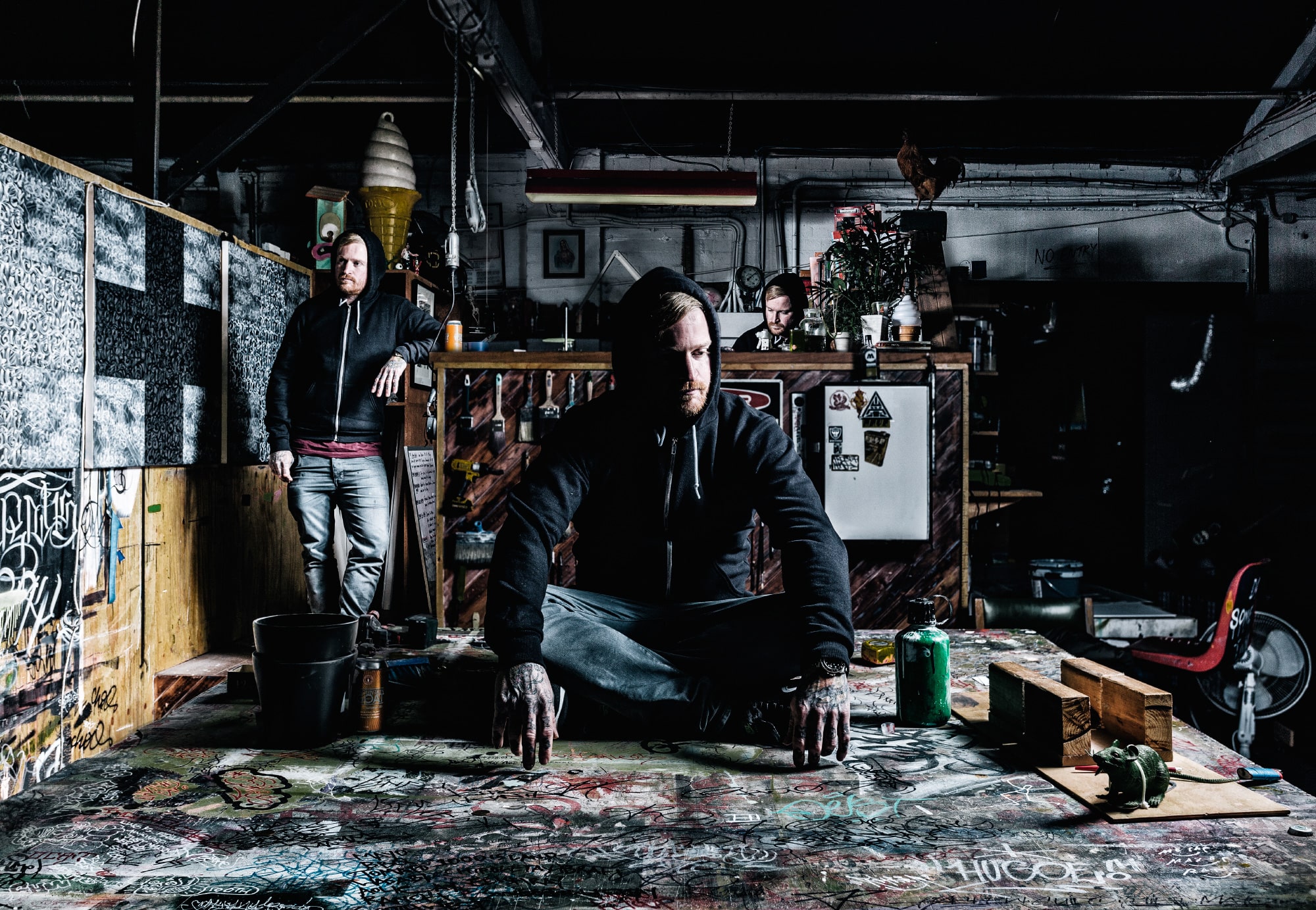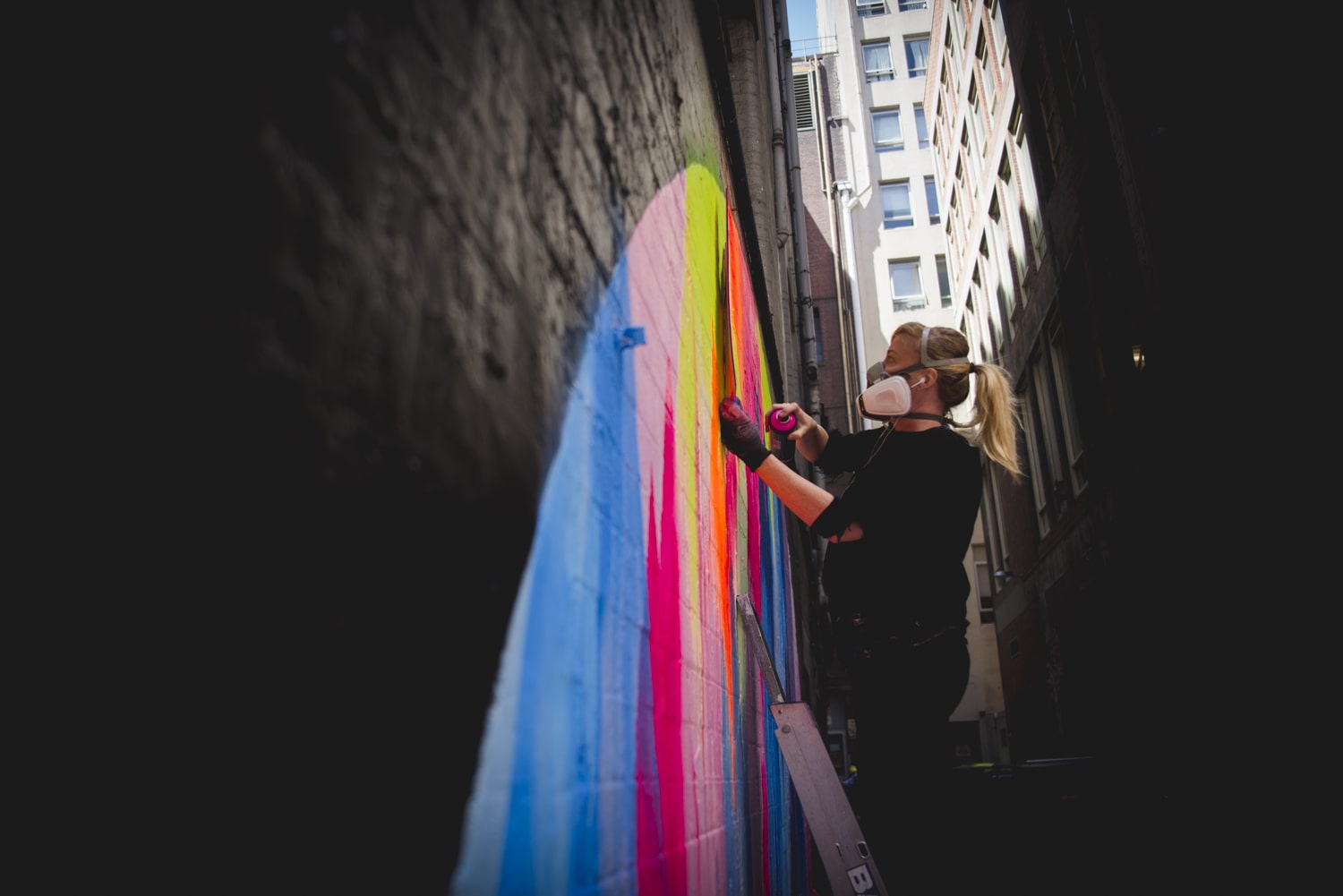 Yvette Vexta is a self-taught artist from Sydney Australia. With a background in street art beginning in the mid 2000s, her bold and extravagant artworks have invaded our visual landscape from Melbourne to Mexico and everywhere in between, from large-scale murals to gallery exhibitions, she is a nomad of our modern times.
Viewing the world through her psychedelic kaleidoscope, Vexta reinterprets the sacred elements within cosmology, mythology, life/death and the feminine, navigating these themes through the common threads that bind our experiences. Exploring the interconnectedness of all living things by juxtaposing animals, human forms and landscape amid her symbolic, geometric shapes drenched in her unique colour palette, she provides an insight into our fundamental engagement with the human condition.
Her recent practice has grown to include soundscapes, animated projections and installations.
She has exhibited extensively across Australia, Europe and North America, including The National Gallery of Australia, Saatchi Gallery London, Banksy's Cans Festival and has her work held in numerous public, academic and private collections worldwide.
She also collaborates with clients such as Converse, Fabergé, Volcom, Juxtapoz, Coachella & Samsung. She currently spends her time based between New York USA & Tulum, Mexico.
Vexta's show Cosmos ran from Friday 2nd August and concluded Wednesday 21st August, 2019.
Photography by: Theresa Harrison